WP Notification Bar Review: Grab Visitors Attentions Easily [Coupon Code Inside]
There are many ways to grab a visitors attention and probably get them to see the bigger picture, Perhaps its one of the listed below bullet points;
See a popular post on your WordPress blog
Follow you on social media
See an offer with a sense of urgency by adding a countdown timer
Many others.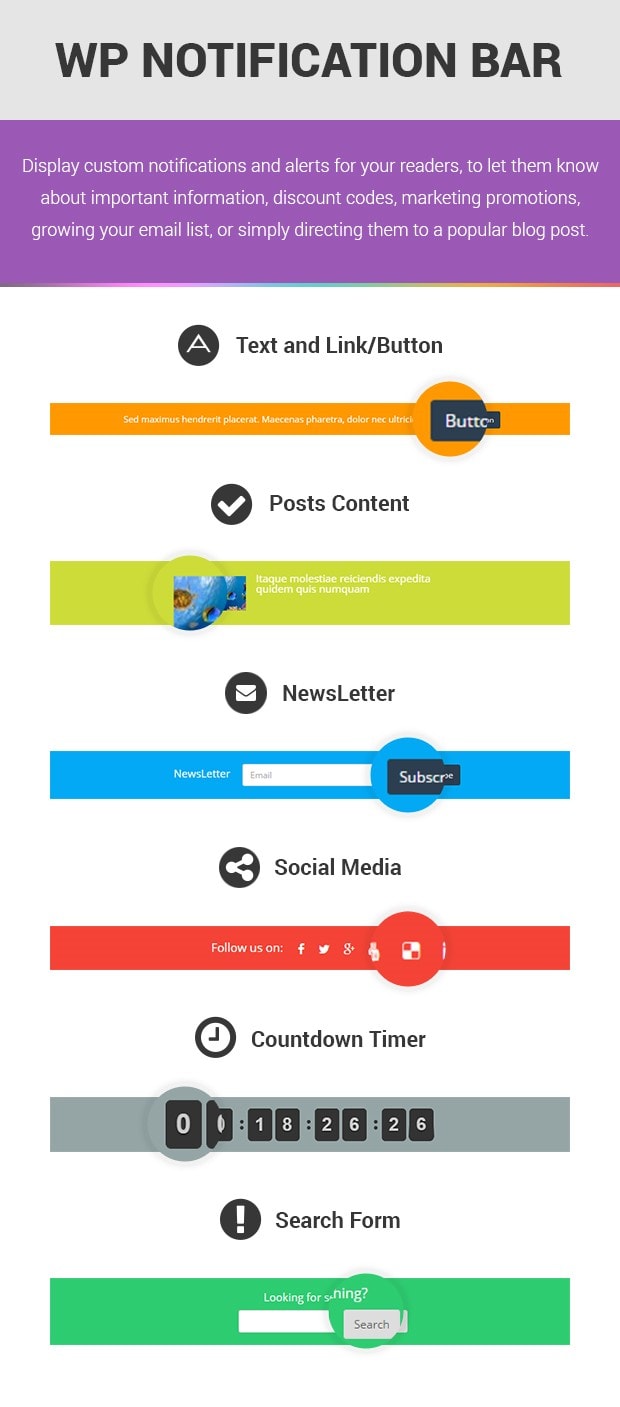 The methods being used in the past to grab visitors attention and hypnotize them such as;
Pop ups
Banner ads
Link Ads
And so on
No longer works well due to the increasing rate of adblock users and general banner blindness. Ever wonder why giant top websites such as amazon use Notification bars above every of their contents?
It's because it actually works. These days adding a top notification bar above every of your blog post is one of the best ways to grab a visitors attention.
Top online influencers such as Neil Patel even recognizes this method came up with a free plugin called Hellobar [It's free but not as feature packed as the one am about to show you.] There's a red bar above this post. See it? That's the work of the plugin
Everyone say hi to WP Notification Bar from MyThemeShop and in this WP Notification bar review am going to show you;
The features that makes WP Notification Bar for you and better than other options.
How to Buy WP Notification Bar from MyThemeShop at a discounted PRICE [Offer lasts for 72 hours only]
How to  create those attention grabbing Notification bars
WP Notification Bar Features
WP Notification Bar is a premium plugin. This makes it special, Feature rich and jam-packed with amazing functions for online marketers.
HD Video Tutorial NEW
Unlimited Colors with 14 Elegant Pre-Designed Color Schemes
Unlimited Notification Bars
AB Split Test NEW
Multiple Notification Types like Newsletters, Discounts, Links, Text, Buttons etc.
Custom HTML Support
Show Newsletter Box
40+ CSS Animations NEW
Custom Post Type Support NEW
18 Social Services Included
Show only on Certain Categories NEW
Show Only on Mobile Devices
Show Only to Specific Referrers
Show Only to a Search Engine Visitor
Click/Impressions tracking NEW
Enhanced Tracking via Google Analytics NEW
Text Only Notification Bar
Show Twitter Feeds
Show Facebook Feeds
Change Cookie settings NEW
Show a Countdown Timer
Show a YouTube/Vimeo Video in Popup
Show Search Form
Show on Specific Posts, Pages or Custom URL
Exclude Specific Posts, Pages or Custom URL
Translation Ready
Fluid Responsive
Get WP Notification Bar Plugin
WP Notification Bar plugin helps you craft clever, personalized and effective messages that "just work" with your audience. What's even better is the fact that you need zero programming knowledge to implement this.
Imagine setting laser targeted messages for your visitors based on where they are visiting from, what page they are viewing and what device they are using.
Possibilities are really only limited by your imagination with this plugin and you can easily double or triple your sales/signups with this simple plugin.
How to Buy WP Notification Bar FOR Just $9 instead Of The Usual $39 [Limited Time OFFER]
This is very easy and am  going to walk you through the entire process of getting this plugin for just $9.
First clear your browser Cache, We don't want any saved info or disturbance to get in the way of purchasing this plugin.
Then visit Go to WP Notification Bar official page on the MTS website. It should look like below;
Then hit the Get it now button to take you to the next page which looks like below ~ It's basically your order summary.
Then use coupon code 9USDNBar when checking out to get a $30 discount [Coupon valid for less than 72 hours so HURRY]. Guess i was not shown the field cos i have an active subscription already.
How to Create the Notification Bars Easily
Creating notification bars just got easy with MTS WP Notification bar plugin. Although buying the plugin comes with HD Video tutorials, I'll still walk you through on how to create unlimited notification bars for your business using WP Notification Bar plugin.
After purchasing the plugin you're going to have to upload and activate it on your website. I assume you already know how to do that.
After activating, A new menu with notification bars appear on the left side of your WordPress admin dashboard among others, Yes that's it. Click it and it should take you to a page that looks like below.
Click on the Add new button and it should take you to a new page that looks like below.
Give your notification bar a name
Choose your style
Add your contents
Set the conditions
Preview your notification bar
Finally, publish your new notification bar and you're good to go.
Tips to Grab MORE Attention With WP Notification Bar
Since there are no limits to the amount of bars you can create make sure to create Different Notification bars with different behaviors for different goals.
Use bright colors. Mainly colors that stand out. I prefer something like an invert of your blog color.
Use strong call to actions in your notification bars.
Make sure your bar just takes a single line, Not too much contents.
Use the A/B Split Test to find better bars.
Conclusion
With WP Notification Bar the hassles of having to try get your visitors see the bigger picture is being taken away completely.
You can easily create unlimited attention grabbing notification bars on unlimited WordPress blogs you own. Yeah there are no domain restrictions or similar. You only get to pay a one time fee for this plugin and you get lifetime updates.
Get WP Notification Bar Plugin
With all that said, Am bringing this review to an end. Be sure to act fast and use the coupon code 9USDNBar when checking out to get a $30 discount. Coupon expires soon.
Thanks for reading. Do not forget to let me know what you think using the comment form.