These 3 Platforms Will Help You Better Monetize Your Blog
Do you run a blog with decent amount of traffic and it's not monetized? Then you're leaving money on the table… You might wanna monetize your traffic in other to make some money online but out of that traffic.
So many online business depend on traffic as it's often regarded as the life-blood of your online business.
If you run an online business and you're getting traffic to your website, Asides from making money from the services you provide, You can also monetize your website and make money from the three places am going to mention in this article.
From experience, These places are very easy to join and require little or no requirements. You just need a blog with good traffic to make the money. The good thing about these companies is that they hardly reject blogs, In at most 3 days you're approved and ready to start making money from your traffic right away.
So in the next few lines, I will be revealing 3 websites to run to if you have website traffic and want to monetize it.
1. Amazon Associates

Amazon is one of the leading e-commerce website in the world selling both physical and digital stuffs. Amazon has been on the internet since 1994 and they have an associates program that has to be one of the very first websites to have this feature. Yeah Amazon is among the first sites to start what we know now today as affiliate marketing but in their terms it's associates.
It lets you earn up to 10% commission if a sale comes through you. Get it? This is PPS (Pay Per Sale Affiliate Program). You get paid when someone buys a product on Amazon through your link. These links often contain cookies.
What's cookies? Its a special script designed to let Amazon track if you referred someone and it can last for more than 30 days on your referrers browser.
Says someone goes through your link and buys a cup today, Tomorrow buys an expensive fridge… You get a commission for that. Amazon associates commissions are always small but one can easily make tons of money in no time cos Amazon is a trusted website and people purchase stuffs a lot from them.
2. ClickBank MarketPlace

This has to be the one. Clickbank is a global internet retailer with over 200 million customers worldwide and still growing. It's as easy as anything. All you need do is sign up, get some links and start earning on sales immediately.
It's almost the same has Amazon Associates, the only different is that only DIGITAL products like software, e-books, plugins are sold on ClickBank.
Its a PPS affiliate program as well and you can earn as much as 75% per commission depending on the vendors offer to affiliates.
To get started, You need to Sign Up… Confirm your account, Login then click on the Marketplace icon as indicated in the image below then navigate through the marketplace to locate your niche and select the product you wish to promote among the wide range of products available there. ClickBank has many benefits and i have taken time to list some below;
Get Paid On Time

Earn Recurring Commissions

Promote Automatic Upsell Offers

Advanced Analytic Available

Earn as High as 75% commission per sale.
ClickBank is my favorite and one of the reasons which makes them so is the on time payment. Bi-weekly option is available and they can send your funds to your Payoneer U.S Bank Account or PayPal.
3. Become an Infolinks Publisher

Infolinks has been on the internet for a while now and they're one of the best alternatives to Google Adsense asides from RevenueHits (Review coming soon).
Unlike Amazon Associates and The ClickBank MarketPlace which pays you when a sale comes through you, Infolinks is a PPC(Pay per click Affiliate program) that pay's you when someone clicks on the Infolinks Ad on your website.
This is a very easy way to monetize your blog, You only need to setup once and continue earning.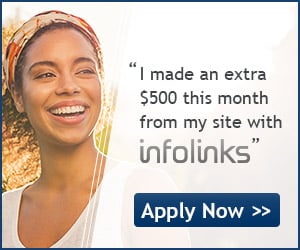 One of the best things about Infolinks is that you get approved mostly in just 24 hours interval. Unlike other PPC sites Infolinks is not a banner advertising platform. Their ads are quite different. They offer these types of ads;
Infold Ads – Ads slides up from the down part of your website

Intext Ad – Appears among the words on your site like hyperlink does.

Intag Ads – Similar to Intext but quite Different.

Inframe Ads – Appears from both right and left website sides.
These ad types can be activated just by integrating your blog with Infolinks via a Plugin or just placing a simple code in your blog files. Infolinks is a very good way to make money online. They're trusted and will not run away with your money. One of the advantages of infolinks is the Intext type of ads available.
The More your contents, The More Ads appear in different variation, The better chances you have at making more money online with Infolinks. Sign up HERE to get started. Its easy and hassles FREE.

To me these three people are by far the easiest and simplest places to run to if you want to Monetize your blog. I Left out an important option though. You can also monetize traffic with Google Adsense.
It's like the best for some Niches but Approval is not always easy. That's why i left it out.
This article is aimed at teaching you quick places to monetize your blog not how to fully monetize your blog as there are tons of other ways.
While my above listed programs are the best places with no approval or disapproval issues, Google Adsense might be better if you get approved.
Things to know about Google Adsense
Its owned by Google (Obviously)

Its tested & Trusted

Payments are sent over on 21st of every month

They disapprove applications a lot but it's worth a try, You need to have good content and traffic to get approved.

Ads are optimized and easy to integrate.
So if you have good traffic and you want to make the most out of it, These 4 programs might just be the best for you. Right now am working with Amazon associates & ClickBank. Have tried Infolinks in the past and it's awesome. Hope to try Google Adsense in the nearest future.
Enjoyed the article? Then SHARE…. Wanna share a comment? Why not! Use the comment form below and lets discuss 🙂