8
How to Make Real Progress This YEAR, The Next… Then On & On!
The headline of this article is simple, You want to learn how to make progress? On and on? Like the continuous stuff it is...
This year and beyond? How experts do it and how i have done it myself? Then you should do one thing....
That is?
Continue reading this article. Period!
I can't count the number of times I've been frustrated to the extent that I had my eyes soaked with tears, I was terribly sad... I didn't know what to do.
People around me kept on asking... "What is wrong?" and I couldn't give a valid reason.
But thinking out loud, Saying to myself... "How can I know this much and I've not done much yet?" By now.. I should've done this, Accomplished that... I pictured myself like this already but it ain't happening.
No progress... But why? Okay! Let me strip this down a little bit... I got inspired to write this post after reading Derek's own version of how to make real progress this year and it triggered something in me.
It felt like I was once in that shoe and I know a whole lot of people are in it as well.
I've got to learn this the hard way... You could too but either (The easy or the hard way) It's left to you.

One thing is constant in life and that's CHANGE. Most things constantly changes, The weather changes, You were not the same size as you were years ago, What else changes? Online marketing trends....
And lots more...But if so then,

Why won't you? Why won't you want to move forward? You want to right? Take a closer look at the major points in this article on how to make real progress in whatever you're doing and I'm sure you'll thank me for taking my time to write this article.
Below are a few measures to take to ensure you're progressing.

Try Handling One at a Time

Whoa! Whoa.. Take it easy champ, You'll get there.
Remember Derek from SocialTriggers I mentioned above? He had a discussion with his friend at a time which led to him discovering why his friend wasn't going anywhere. He made the graphical representation of the situation. It looks like below.

I ain't gonna lie, That looks exactly like me, My situation about two months ago. I had this site, then another niche website, then another one I plan to grow as a local business, then another one project then my daily 9-5 job, then schooling to get a degree.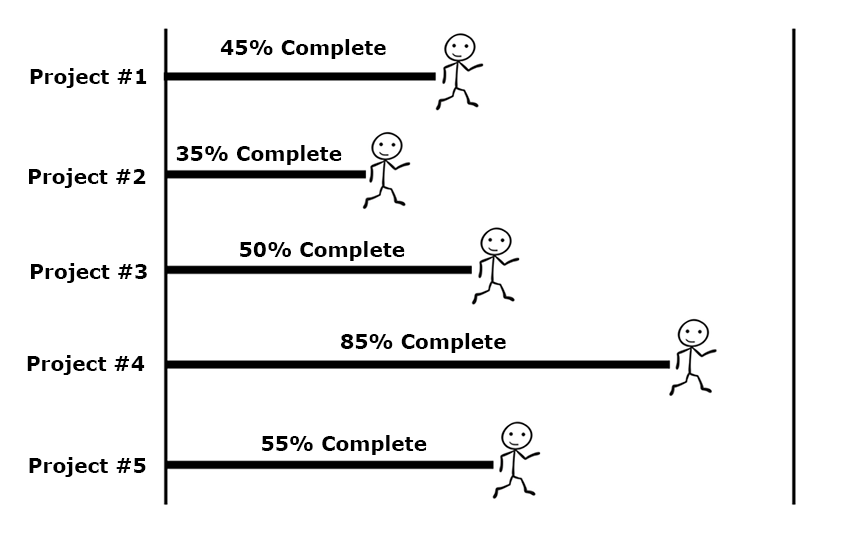 Did you see all of that? What was I thinking? I guess I must've thought to myself along the way.
The best way to do these things is to handle them all together. I was totally wrong. In fact it disrupted everything and I couldn't do anything. Nothing at all.

So I did something. I forgot I had other things to attend to... Other things that are important such as school (education) Then other few ideas that could be making me money by now (Niche website) And in just few weeks this blog grew and the search engine rankings got increased.
As well as my performance at work but all these just isn't enough. Know what else I did?

So you have no one but yourself to blame for remaining the same even after your deep struggle.

Recently I've made an effort to cut down on the number of things I do including quitting my 9 to 5 job and know what I've found interesting? It's tasking myself. Setting goals.
Goals examples includes:

One thing though: Setting goals are easy, Working towards them? Not so much.. In fact there are different times I had deviated from what I had planned to do for the rest of the month. There seems to be a problem with goal setting.
Even Matt Wolfe confirms that... When he describes his goals like aiming at something static. You know how easy it is to aim for something like that right? But in reality it's moving he says.

Matt isn't the only one, I'm not too.... Chances are that you are. You need this article. Since I've noticed this? Here's what I get down to do next 🙂

Develop a Sense of Determination

Dictionary defines Determination as firmness of purpose. Wkipedia defines it as the positive emotional feeling that involves persevering towards a difficult goal in-spite of the obstacles.

Developing a sense of determination toward achieving your goals is very vital. In fact since I've managed to caution myself and the rate at which I read Neil Patel's blog whilst looking into codes at the same time
I've also noticed that when I want to do things, Once I'm ready? I do it and the rate ay which I get distracted is minimal. What if I told you that the Niche site I aimed to set up after finding a good keyword via Long Tail pro is up and running with articles.

A few more works and I'll be dancing in the first page of the search engine results. One thing that also works is....

This is the second or third thing I do each day after waking up in the morning. In fact my book is almost filled with something like below..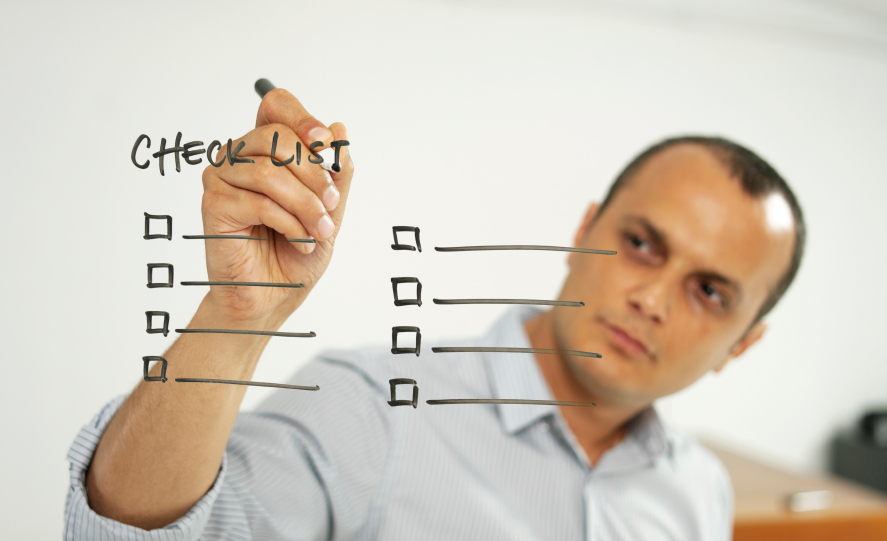 I've found this a very effective strategy to keep me going. In short? It works. Here's what I do each time i wake up, In this case! Lets assume we have two different projects we're working on.

I start by thinking or asking myself " What do we have to be done today?"

With book and pen in my hands

I begin to write down a number of stuff I want done through out the day and at the end? I tick them off... Most time I tick them off as I complete them.

Generally apart from making checklists everyday, I've also found that keeping writing materials close by has contributed a lot to my achievements these days.
When I'm working on something and an idea pumps up? I just pick the pen and document it down for later.. Maybe get a slot on the next checklist. It all originates from being organized with everything you're doing got it?

Another significant element of growth and progress I've discovered is learning something new. Hey! It's an advanced world and learning never stops. With websites like Udemy, You can be an expert at anything in just a few days.
Learning something new also helps me add new skills to what I've had to do on ground. I'm from a family of managers. One thing we're used to is if it isn't relevant today, It does not mean it's not going to maybe need it tomorrow.

A while back, Kristyna published an article revealing over 30 websites to start leaning something new right away, It's an incredible resource. Know what I did? Picked two out of these and that is:

Improve my HTML Knowledge - Codecademy

Learn something New every new Month - On Udemy
So there we go? Which takes us to the final part of this article.

You must be wondering! Why question myself... I'm I not the boss here? Yes you are.. No doubt but...

The question factor? Yes yes for me and definitely should be for you too, Afterall it's yourself. See this as a form of A/B testing for yourself instead of your landing pages.
Questions like:

Oh yeah, So how are we doing?

Is the checklist I'm creating working?
Are there need to invent or look into new strategies?
This is going to work right?
I'm I doing content marketing right?
Is my email marketing strategy effective?

This keeps you in check... Lets you know if you need help right away or not yet. You're doing fine. Just think of it as the normal way you send in your reports to the manager just that in this case you're your own manager.

Please don't ignore this part. It helps a lot.

You know yourself more than anyone else. You might be the type that can multi task effectively or not. When it comes to handling things it's good to keep it simple and not eat more than you chew.
One step at a time, Set goals and be determined... You could add prayer to it as well. I do and you shoul d too. No matter how big the workload looks "Chop it into halves, Further sub divide it and break it down.. Then pick one by one.
Bet you'll see a significant amount of progress in whatever you're doing.
And with that? We've come to the end of this article. I'll be glad to see your feedback on this one. One quick question.. Are you an expert? Or recorded a significant amount of progress in the past? Then is there something I've left out? Kindly let us know using the comment form below.
It's open and do not forget to share 🙂