3
5 Tools That Will Make Creating High Converting Landing Pages Easier & Faster
The need to create more landing pages for both B2B and B2C companies grow every single day. By the seconds, minute and hour so to say. In fact it's one of the most important ingredient business owners should have on their website.
Why? The answer is simple... It has the power to do virtually anything. Name it.

Collect Email subscribers, Most useful for email marketing

Pitch new products to customers
Increase search engine rankings
Increase overall trust of your brand or product
Creates a relationship between a business and a customer (Specific)
And many many more..

Not only can landing pages do that, They can make you serious money. For example With the help of Conversion Rate experts Moz was able to generate over 1 million dollars from a single landing page. Just one.

Neil Patel also mentioned in one of his articles that a high converting landing page can be the foundation of a successful online business.
He's not lieing. Neil knows exactly what he meant when he typed and published that.
​
​
​
Landing pages has the ultimate power to convert better than other pages on a website... Including blog posts, resources page even sometimes the homepage. Why is that?
Landing pages are targeted to one of the above bullet points and stay true to it unlike blog post or articles that could be pitching a lot of distractions. That makes landing pages the perfect go-to options for high conversion.
In fact, a recent study by MarketingShepra shows that 48% of marketers build a new landing page for each marketing campaign.

48% of marketers build a new landing page for each marketing campaign.
Are you kidding? It doesn't end there... If sales is what your business crave for then you'll be pleased to know that 68% of B2B businesses use landing pages to garner a new sales lead for future conversion.

It goes on and on... But let me ask you! How do we create these landing pages, Tons of it so as to test, launch each for every new campaign we've got and lots more.
That could be stressful in fact you might to hire a designer on odesk or freelancer to do that for you.
68% of B2B businesses use landing pages to garner a new sales lead for future conversion.
Mind you? That could cost you several of hundreds of dollars besides why hire someone when you can do it yourself? My landing pages are built by me... I have no team and neither do I have budget for landing page designs.
Even if you do, How much do you have to pay to get a single design done for you? Since statistics shows that business with 40+ landing pages get 12x more leads that those with 5 or less. If you pay $50 per landing page done, You'll need to pay $50 x 40 = $2000 to get 40 landing pages done for you... That's a lot of money that could be channeled into advertising.

In this article, I'm going to show you landing page creation tools that will make creating all sorts of marketing pages easier and faster even for a noob like you. Are you ready?

Instapage Landing Page Software
Instapage landing page tool is one of the easiest tool to work with and churn out really nice high converting & good looking landing pages in minutes. What Instapage does is allows you to create landing pages in 4 steps.

Build with available templates
Integrate with your Email marketing service provider
Deploy: Publish your landing page
Test: With the aid of the A/B testing tool

With Instapage, You can create most type of pages. Lead generation, Thank you pages, Click through pages, Webinar pages, Mobile app pages and more.
This is not a WordPress plugin but it integrates nicely with WordPress and allows you publish your landing pages to your WordPress website in just a single click.

Instapage also integrates nicely with most email marketing software, CRM, Marketing automation tools like GetResponse, Salesforce, Madmimi, Gotowebinar, Google Analytics, Kissmetrics and many more.

What makes landing page creation with Instapage is the fact that you can split test your landing pages to see which is outperforming which with just a click of a button (See this feature) A/B testing is very important, For example President Barrack Obama raised an additional $60 million just by running simple A/B testing.

With Instapage you can create and publish unlimited types of landing pages for your business starting from $29/month. Monthly subscription. Another cool thing to note is that you can publish your landing pages on unlimited domains which may include those of your clients.

When talking about Landing Page creation? Instapage really deserves to be mentioned.

Thrive Landing Pages WordPress Plugin
The Thrive Landing Pages WordPress plugin created by the Thrive Themes team is one hot landing page creation tool specially made for WordPress right now. Creators of the Thrive leads List building plugin.
Thrive Landing pages will help you build high converting landing pages easier and faster. Simple.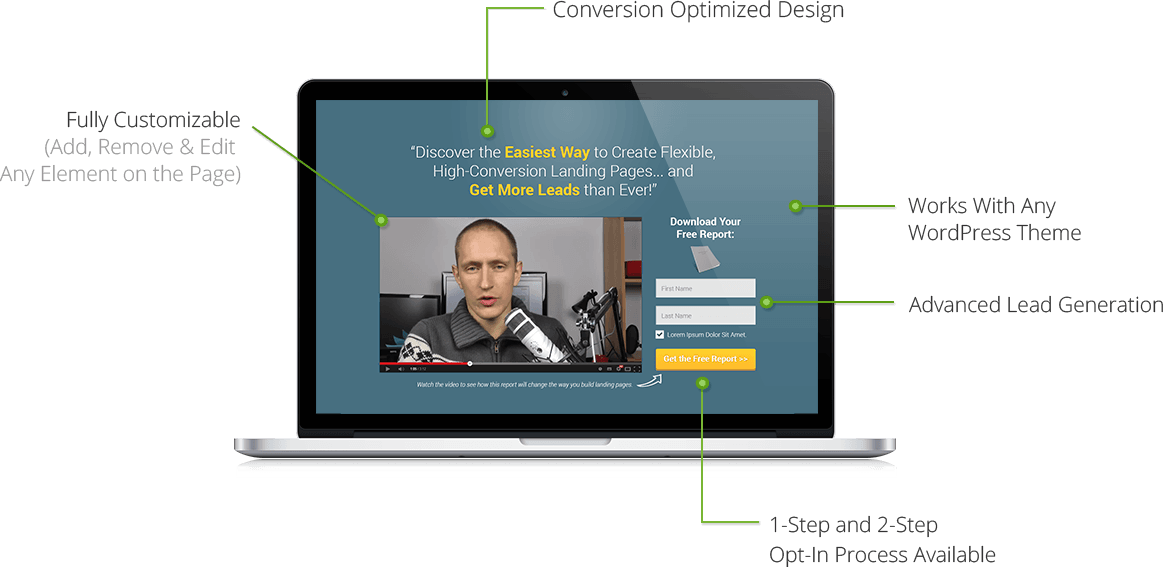 But how? In addition to the fact that you can pick up your landing page creation from the scratch and build yourself something nice with the aid of the Visual editor present, The plugin comes with over 100 landing page sets template that will help you build these types pages faster:

1 Step lead generation pages
2 Step lead generation pages
Custom built homepages
Thank you Pages
Download pages
And more...

With this plugin you can set up unlimited landing pages from you WordPress website and send traffic to them to do what ever you want them to do. I use Thrive Landing Pages to build my marketing pages faster and I'll show you quickly how easy it is to build one now.

First thing you need to do is Create a new page from your WordPress dashboard... Give the new page a name an d save it as draft as indicated in the screenshot below.
If you have the Thrive Content builder or landing pages plugin installed, you'll see the Edit with Thrive Content Builder option.
Give your page a name, Hit the save Draft button and next is Edit with Thrive Content Builder. Got it?

Clicking the button will take you to your new blank page, From there you'll see the menu like below... Click on the Thrive Landing Pages button and you'll get presented with a list of templates, A whole lot of them to chose from or start a blank project.

The labeled 1 Part is where you can filter the landing pages templates by tag to find the specific page template you want to build presented to you fast, There's even more template on the 2 Labeled part. The Thrive Template cloud where you'll see other good looking templates as well and 3 is where your customly saved landing page templates will be.

It's as easy as that. Then start editing words and changing the images to yours. Did I mention you can create amazing sales pages with this plugin? It's simple, fast and creates good stuff.
I recommend it. See the homepage? The plugin is responsible for the design.
There are tons and tons of stuff this plugin can do. It's an all in all with a full suite of landing page that will help grow your business. After all the editing and editing. Here's what my new landing page looks like.

This plugin is a must have for every online marketer and business owner. It comes with three inbuilt tools that even makes me love it the more.
Thrive Content buillder for creating good looking posts like this one, Thrive Lightbox for displaying email capturing email subscribers with the eye catching lightbox tool and finally?
Thrive landing pages with the full suite of templates. There's more you need to know about this tool.

WP Profit Builder WordPress Plugin
Building marketing related landing pages? The WP Profit builder WordPress plugin might be the best way to go. Created by an expert Marketer Sean, This plugin has been around for a while a,nd it creates good stuff.
Just like others this plugin comes with over 60 very clean editable landing page templates you can turn into your own in no time. Online marketers love it.

Creating a landing page with this tool is easy. It's like Creating a page, Selecting templates, changing to your own words and publishing. It's as easy as that.

After installing the plugin you'll have your dashboard where you can make most settings like customize and add fonts, see and download landing page templates for use, Color options and many many more. Here's what it looks like.

Then setting up the landing pages? As easy as cake. It will help you build almost all types of marketing pages you can ever think of. You'll love the plugin.
Just like others the profit builder intergrates seemingly with top email marketing softwares and marketing automation sales platform like s2member, 2checkout, gotowebinar, clickbank, Jvzoo and others.
Just like Thrive landing pages above this plugin comes with a 60-day money back guarantee if you don't like it (Not possible) and there are several guides available to help you find your way around the plugin. It's a good one.
It goes for $67.67 for the unlimited license version. Use on any website including those of your client's.

The Unbounce Landing Page Software

You need to build better high converting better looking landing pages, We get it. Unbounce is a tool like no other that will help you do that in no time.
What is Unbounce? Unbounce is a landing page creation tool that lets you create sexy landing page, test them without having any I.T knowledge. The tool puts you in absolute control of your pages. You can move anything without limits by content blocks or anything.
Just get creative and you'll create something nice.
Truth be told, You can use Unbounce to create very good looking landing pages in minutes. Think I'm joking? Take a look at the page I'm working on below with Unbounce. Very nice.

And again, With Unbounce creating A/B testing for your landing pages is ridiculously easy and easy to carry out, LOADS Of tutorials in the academy to guide you. The only draw back I have with Unbounce is that you have can only send limited traffic to your landing pages especially if you're on a free or the first paid plan.
Good thing is, It's not a WordPress plugin and seamlessly integrates with services and domains to help you publish your landing pages wherever you want them. The unbounce dashboard is pretty neat and anyone even a noob can find his way around it.
You can manage users for advanced accounts, manage domains, create pages, see the latest posts on communities, The traffic usage meter that I sorta hate and a couple of others. To get started you need to hit the Create New Page to get started on the action.

It's super easy what you can do with Unbounce. Try it?
Wishpond Easy Lead Generation Software

As you've seen above, Wishpond isn't just a landing page creation tool. It's an all in all lead generation suite helping you capture those leads that matters to your business through forms, popups and of course, Landing pages.

How does Wishpond work? Simple. It's a FREEMium tool that's got all you've ever wanted. There's a 14 day trial on all premium plan and there's a forever free account that has all functions except for the fact that you can only gather just 200 leads.

Creating your landing pages can be very easy using Wishpond's tool. For example you need to be on a plan... You can try the free plan then upgrade later. Here's what your dashboard looks like for new accounts.
Select the option Landing Page.

As usual you'll be presented with a huge list of landing page templates you can work with instantly. Choose any and wo rk with it. It's super easy. In fact I'm surprised with these templates here... They look really nice.
With Wishpond creating a high converting landing page is like a child's play and this tool will totally make landing page creation easy for you. Like I've illustrated below you only need to choose a templates and it begins. The fun 🙂

It's as easy as that. Wanna try?

Your Turn

With these tools, creating high quality landing pages for your marketing can be done in minutes.
My favorite here is Thrive Landing pages, Seems to work best for me. Easy and packed with tons of features. Wishpond is also worth looking at and so is Instapage. There are also popular tools like LeadPages but I'm afraid I haven't tested the software.

Want my opinion? They're all great. Try one out for your business and lets see how that goes. Now it's your turn.. If you've gotten something from this article then it's only fair that you share this piece of content with your friends on social media.
And please leave your thoughts as to this one 🙂